The VIP Lounge and its ambience
Nomen est omen! A high class, spacious hideaway – made of luxury and all sorts of pleasurable tools and toys. This erotic wellness area has been designed to fit highest standards and expectations of our VIP guests. That is just, what the name of our place is all about. The combination of equipment, surrounding and possibilities is unique throughout Germany – that offers an outstanding experience to our guests.
Our high class design equipment is just "best of the best", leading designers and brands did their best to create an impressive world of made to measure furniture.
The VIP Lounge stimulates the senses of our ambitious guests not only by its equipment. Special lights and illumination give a pulsating atmosphere of flowing senses and hidden sins. Let this flow fulfill your body. Longings, passion, lust and pleasure will melt into an ultimate level of joy and seduction.
180square metres (indoor 100/ outdoor 80) create an erotic playground of bdsm an fetish desires.
Four high class furnished theme rooms in the inner area present an atmosphere full of passion and fantasy. A very large playground, equipped with all sorts of BDSM tools and equipment, bondage bed & cage, water bed and a fully equipped white room / medical area, is waiting for your visit. The Sonos Sound System ensures the perfect background music, fitting your mood and preferences. As well, a flat screen smart television is available. To create a romantic candle light dinner our fully furnished kitchen holds in stock everything you need, during cold months the chimney will ensure some more "warm feeling".
Another Hot Spot is the roof top terrace, protected by screens from view your privacy is guaranteed. You can celebrate all sorts of fetish games and desires open air. If alls this is not hot enough the sauna (2 to 3 persons) will rise the temperature. Afterwards our whirlpool may be the welcome cool down location. After a day full of erotic a glass of cold champagne, enjoyed between our outdoor heating system, may be the perfect finish.
The VIP-Lounge Elegance is an exclusive, unique and luxury adult playground – fitting 5 star grand hotel standard. The only thing is; the very special secret inside will probably not be found in a hotel. Our main target is to provide the 100% intimate and private place for you so that you can celebrate your dreams and desires. Enjoy the "VIP Elegance Feeling"!
Large Playground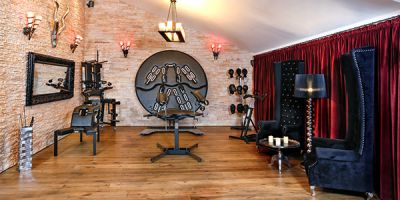 Our large playground is a spacious room of dark fantasies, featuring 4,5m ceiling height. The room is equipped with made to measure fetish furniture, including an electrical and lifting block that can be adjusted in its height. Use our love swing to discover positions you haven't even thought of until this moment. Experience zero gravity feeling and swing to orgasm.
One of our highlights is the 360° Style Fetish bondage wheel. Helplessness will rise to a new level once you are bound to this extraordinary bondage tool. Security belts as used on airplanes guarantee 100% safety.
In Addition to this game the slave chair provides exciting options and functions. Various buckles and chains will make sure you are under control. Handcuffed, blindfolded and gagged you will be waiting for the things that will happen... Rubber masks and other utility can be provided if required.
Another feature is our twistable gynecological examination chair. Kinky examinations and medical games can be done with two or more participants – depending on the way you like it.
Of course, classic utilities – such as pillory and bench – are also part of our BDSM VIP Lounge. In Addition you will also find high tech tools, such as the Venus 2000, Sybian, a special facesitting box, fu*king machine etc.
Foot worship lovers will find the perfect place in front of our throne to please their partners feet.
To create an exciting view we have installed several mirrors that will give another inspiration to your fantasies. For a comfortable setting wooden floor and underfloor heating are provided.
In every detail we did our very best to create the world of your dreams – enjoy the unique VIP Style of Elegance Erotic Entertainment.
Bondage Bedroom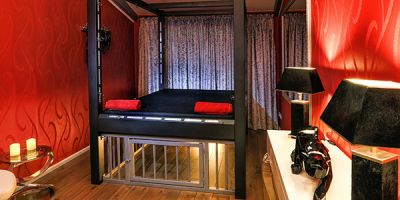 The massive bondage bed with included cage has been made to measure by Style Fetish. It has been produced first time ever, just for us. This is the ultimate bondage dream. Lots of loops allow all sorts of bondage and rope games. Give up control and let your partner tie you in all sorts of positions. Enjoy passionate touches and kinky seduction. Smooth lightning and ambitious music will ensure a scenery smooth as silk. The large mirror will also provide a kinky and sexy perspective. Perhaps you will also find yourself in the cage and receive the torture of tease and denial.
Waterbed Room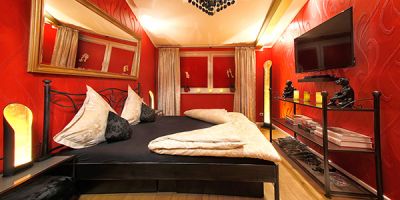 You prefer a more romantic setting? The waterbed room may be the perfect playground for you. The room offers a very sensual flair with subtle charme and a special glamour flair. Forget about the every day issues outside, enjoy the floating waterbed comfort and feeling with your partner. This stylish ambience will not only make you feel comfortable, it will give you the place to let your dreams come true.
If you like you can introduce the St. Andrews Cross to your adventure. Bound and helpless you are under the control of your partner. Experience a world of erotic and enjoy your journey of sensual pleasure.
There is no limit to your fantasy!
White Room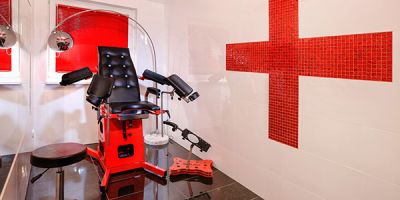 All sorts of white room and medical dreams will be fulfilled in our VIP Lounge Elegance. The fully equipped examination room offers a comfortable and detailed scenery to heal all sorts of pain and suffer. Beside from the eye-catching design gyno chair the fu*king machine and various other instruments can be introduced to the treatment.
The gyno chair is perfect for very profound examination and as well in order to enjoy a comfortable position during an erotic examination.
Further tools and toys are provided in the display case.
Rooftop Terrace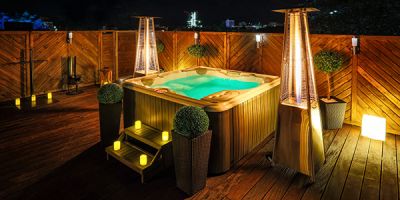 The VIP Lounge Elegance offers a huge, view protected rooftop terrace with a 4 to 5 persons whirlpool, 2 to 3 persons sauna, 3 heating units (pyramid shaped) and a spacious love lounge. This is the perfect place to relax. Forget about every day issues and let your creativity run free.
Enjoy sparkling games in our whirlpool. Hot and sparkling water will make you feel comfortable, if you like including massage mode. A glass of ice cold champagne is the perfect garnish to this setting. Enjoy an open air night in this perfect surrounding, enhanced by smooth light and a view into the sky.
Bathroom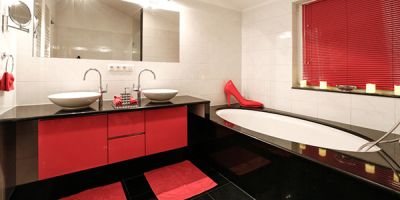 Our elegant bathroom gives the cherry on the cake to our luxury VIP Lounge Elegance. Shower and bathtub are spacious enough for two... The high class heated granit floor will avoid cold feet and perhaps gives ideas on further games. This may be the beginning or the final of your pleasure, just as you like.
Romantic Dinner Room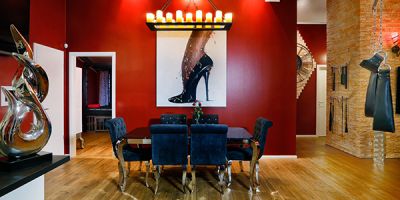 Fun and pleasure can't begin if you are hungry... A fully equipped kitchen with comfortable dinner table and chimney is waiting for you. Surprise your partner with a candle light dinner in this very special ambience, followed by a sinful overnight stay at the VIP Lounge Elegance. Let your partner enjoy this seductive diner. Some champagne and a delightful breakfast will ensure culinary pleasure. Our multi media system (SMART TV, Sonos soundsystem, smooth light etc.) will create the perfect ambience.
Enjoy your unforgettable night and be a VIP in our Lounge Elegance.